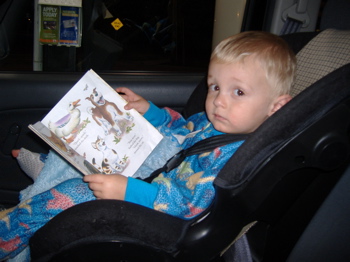 Tristen enjoying some scholarly research.
Toddlers are great teachers. They are rarely distracted by worry and are always in the moment. Here are some lessons my son, Tristen, has taught me:
Just because you bumped your head a few minutes ago and still have a big red mark, there is no reason to dwell on it. Keep on playing and having fun. See Bumps, Bruises and Happiness.
Always clean your plate, but don't overeat. When you are full, dump the rest of the food on the table and spread it around.
Be frugal. Empty containers and boxes are much more fun than expensive toys.
A yard full of leaves is a playground, not a work site.
When food tastes really good, laugh.
When you love someone, run up to them while calling out there name repeatedly, then throw your arms around them.

Tristen walking around a campsite at Carney Lake State Park in Michigan.

Smiles are contagious.
Boredom is the enemy.
Vampires are adorable (See Be Silly Every Day and you will understand).
Always take time to watch birds fly overhead.
Just sitting still in a chair for two minutes can turn a whole day around. See Time Out.
You can fit a lot more commitments in your life than you think. See Struggling with Expectations.
You have a lot more energy than you think.
To make a new friend, just smile at a stranger.
Creativity is not learned, it is unlearned.
Creativity is not exclusive. We all start out with it.
You don't have to be a professional to sing.
The best way to start the day is to stare out the window for a few minutes and marvel at the world, then run around aimlessly, laughing and flailing.
The best way to end the day is to run around aimlessly, laughing and flailing, then stare at someone you love for a few minutes and marvel at their wonder, then go to sleep.
Continue reading 20 More Life Lessons Learned From My Toddler.