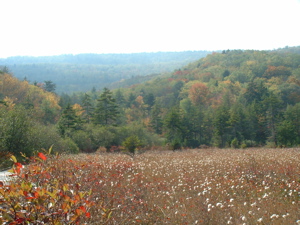 Wildflowers in a meadow in the mountains of West Virginia.
Last Friday's Post, Instant Gratification that is Permanent and Free, talked about the benefits of gratitude and its obstacles. I wrote that, "Gratitude is the single key to peace of mind, contentment and satisfaction." Here are a few ideas on how to make gratitude a permanent part of life instead of an occasional fix.
Create a gratitude list, a list of things for which you are grateful. Review and maintain it daily. This can start as a brainstorming exercise. Put everything on that list that comes to mind, even if it seems silly at first. Include experiences, mistakes you learned from, knowledge, your abilities, your body, everything about your body that works well, health, friends, family, co-workers, people who test your tolerance and patience, your home, your bed… everything.
Focus your goals and plans for the future on producing more of what you already have and appreciate. For instance, replace, "I wish I had a nice car," with, "I'm grateful that I have a car (or public transportation, a bike, or legs, or however you get from place to place), I am on my way to getting an even better car (or method of transportation)."
Look to the future with hope. Do not allow past experiences to drain your hope. Money problems in the past do not guarantee them in the future. Career stagnancy of the past does not mean you can't change your future direction.
Meditate on gratitude. The power of gratitude focused meditation is incredible. It has a lasting affect on your outlook and mood and strong evidence suggests it has a profound affect on manifesting increased abundance of the objects of our gratitude.
Pray in gratitude. Make a habit of expressing gratitude through prayer rather than reserving prayer for requests.
Be conscious of negative thoughts. They will happen from time to time. Replace them with thoughts of gratitude. Acknowledge that life is constantly changing and these negative things will pass and will serve a purpose on your journey in life. This requires energy which is drained by negativity. The sooner negative thoughts are addressed, the more power you have to change them. Gratitude requires work and energy, but it also produces energy thus perpetuating itself.
Commit acts of gratitude. Perhaps one of the most powerful ways to sustain gratitude is to share it outwardly. Practice kindness and generosity with others to demonstrate your gratitude for what you have. Show gratitude to others when they do things you appreciate. Try not to view this as an obligatory response to pay them back, but rather a sincere expression of your inner gratitude.