It is difficult to maintain motivation when there doesn't appear to be any incentive along the journey.
When we review our goals, we usually focus on things that are incomplete. We look at what is missing and spend little time looking at what has been accomplished.
As with anything in life, we can choose to focus on what is missing and incomplete or we can focus on what is here and complete. Remember that what we focus on tends to multiply. Remember that when we express gratitude for our accomplishments, we are more likely to see those accomplishments multiply than if we simply ask God to grant us what is missing.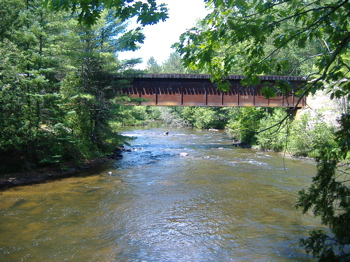 Train bridge over the Peshtigo river in Marinette County, Wisconsin.
This is true because it is the way that God works. There are several philosophical and theological explanations for this phenomenon. Bob's post Glorious at every,every minute got me thinking about God's glory. From a Christian perspective, and probably several other monotheistic belief systems, God aims to be glorified. Praise and gratitude expressed to God will be returned with more of the focus of the praise and gratitude in order to receive more praise and gratitude. This phenomenon is also referred to as the Law of Attraction or Intention Manifestation.
The idea of receiving more of what we express gratitude for also works because it is the way we work. When we live in gratitude for our accomplishments, we are inspired and motivated to continue accomplishing. When we show gratitude along the way to those who help us, rather than waiting for a satisfactory completion, those people will be inspired and motivated to continue.
You can express gratitude and appreciation through celebration, recreation, prayer, service and gifts for yourself and those who help you. Take time to appreciate the tasks that have been completed. This is more easily accomplished when splitting the project into small tasks as suggested in yesterday's post: Breaking Tasks Down for Motivation.
This post is part 5 of a series: Motivation to Complete Your Goals.
Continue on to the next article on the motivation building process: