On a day to day basis, we read about the benefits of a spiritual, inspired and enlightened lifestyle. We know that life is a product of our attitude, our faith and our choice to look at things positively. So what happens when we know that all in our heads, but don't always feel it in our hearts? What happens when we try to be positive, but find ourselves repeating a cycle of frustration and complaints.
There are times when I find myself annoyed and frustrated with circumstances in my life. I get stuck in negativity and then get frustrated with myself for acting out on negativity when I know, intellectually, that it does me no good and it is not how I want to live. I find it especially difficult to combat these perceived blockades to contentment when illness strikes or when circumstances or poor time management prevent sufficient sleep.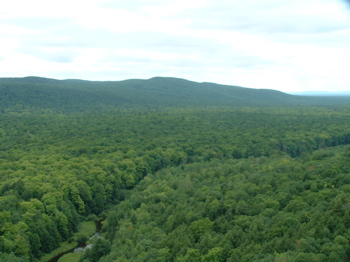 View of the back country from a peak at Porcupine Mountains State Park in Michigan
Ideals and Expectations
As we step onward in our spiritual journey, we often focus on the ideals we wish to achieve. Many of us look to spiritual lords as roll models such as Jesus Christ, Buddha, Krishna, etc. as a guide. It is easy to forget that these people lived in spiritual perfection that is historically extraordinary.
The profound majority of humans throughout history struggle tremendously with faith, kindness, selflessness, gratitude, forgiveness and even basic honesty. These are extremely difficult principles to live by consistently for most of us, and the best thing we can do to assure continued spiritual growth is to forgive ourselves, let go of our past mistakes and strive for growth rather than perfection.
Humanity, Uniqueness and Imperfection
Uniqueness is a key trait of humanness, and imperfection is a property of uniqueness. If we were all perfect, we would all be the same. If we were all the same, we would not be human.
Imperfection and Purpose
If we were all perfect, we would all be lords. If we were all perfect, we would not need a lord. If we were all lords and didn't need a lord, we would have no purpose.
Our imperfection defines us as unique and dynamic. It is a trait of the creative, conscious beings that God created and loves.
If God wanted me to be perfect, I would be.
Practice Patience and Tolerance with Yourself
Recognize that you will make mistakes, there will be setbacks and you will continue to grow spiritually. Sometimes our journey down the path of spiritual growth is lightening fast and we see profound changes in ourselves overnight. Other times, the journey is difficult and slow.
We can choose the path to follow, but rarely do we get to choose the time line. The patience we have with ourselves is the patience we have with God's plan.