I frequently share bits and pieces about my life in my daily posts. Today, I would like to share a general introduction of myself and my family with. Yesterday, I added an "About Me" section to my about page and wish to share that as today's post.
About Me

Me
I am, Danny Kohn, writer and designer for this site and proprietor, software engineer and consultant for Inspirations Software Design.
My three greatest passions in life are sharing time with my family, software design and sharing inspiration with others. I have the incredible privilege of being able to spend a significant amount of time every day doing each of these three things.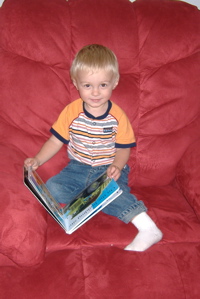 Tristen
I am married to the mother of my almost two year old son who is at that incredible age where he repeats what we say and tries to communicate with us through his very limited but growing vocabulary. Everything he does and says overwhelms me with adoration. All he has to do is point his tiny finger at a light fixture and say "yight" and I am nearly moved to tears. I smile and giggle constantly in his presence and feel truly inspired and grateful.

April
My wife, April, is also the business manager of Inspirations Software Design. I have the pleasure of working with the woman I love whose skills, talents and vocational passions are so different than my own that we compliment each other perfectly. What we do share is a rejection of the status quo, a stubborn desire for independence and a passion for constant improvement of our lives and those around us.
While one of God's gifts to me is an ability to communicate through written words, one of God's gifts to April is the ability to communicate face to face and heart to heart. She has this remarkable talent of looking into someone's eyes, feeling what they feel and sharing it: an ability that I had nearly lost entirely before she shared it with me.
April is one of my main sources of inspiration along with Dr. Wayne Dyer, Viktor Frankl, Steve Pavlina, and of course, having the opportunity to inspire you.
I welcome and encourage any feedback, suggestions, questions, expressions of appreciation, criticism and messages for any reason from readers. Please feel free to email me at danny(at)inssoftdesign(dot)com (replace the (at) with @ and (dot) with .) or leave comments on my posts.
My hope for you is that you live in inspiration every day and that I can help you do that.
Danny Kohn