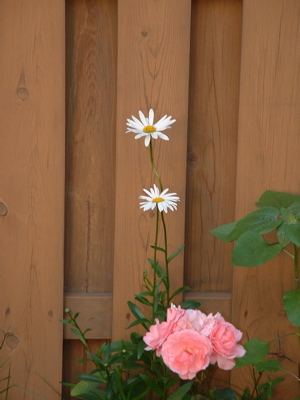 Daisies and Roses in our backyard at our previous home in Milwaukee, WI.
Each day I write a post on topics that I believe are inspiring. I do not have a PhD in philosophy, psychology or theology and have no accreditations to specifically label me as an expert in the field of inspiration. Instead, what I have are things I've learned through life experiences and from others whose quotations I share daily. You have these things as well.
The very act of sharing these lessons is one of the most inspiring experiences that life brings me. And when readers leave comments or send me emails expressing their appreciation for what I have written, I'm overwhelmed with joy. I know it may sound cheesy, but I can't think of any other way to explain what it feels like to know that the lessons that God teaches me through my experiences are teaching others, too.
Today, I am asking you to share what is inspiring to you. You can do this by leaving a comment to this post or by sending me an email at danny(at)inssoftdesign(dot)com. I am asking this for the following reasons:
I would like to get to know you, what inspires you, what your interests are and what I can do with this website to best serve you.
I would like you to know what it feels like to share your inspiration with others.
I would like more voices than my own to be heard on this site.
You can share a story or some small thing that inspires you, speak on a topic you find inspiring, share an inspirational quote, a book or suggestions for future topics. You can also speak on obstacles to inspiration or struggles you have with any topics relating to inspiration.